MONETA Money Bank is one of the largest Czech banks.
The new Moneta.cz web portal was mainly aimed at enhancing the commercial performance of this digital sales channel.
Solution
From the beginning, we have not seen the creation of the new portal as a project, but as a product. We are constantly optimising this product, improving its performance, adding new applications.
The website is built on the Liferay DXP portal platform in conjunction with modern ReactJS dynamic front-end library technology.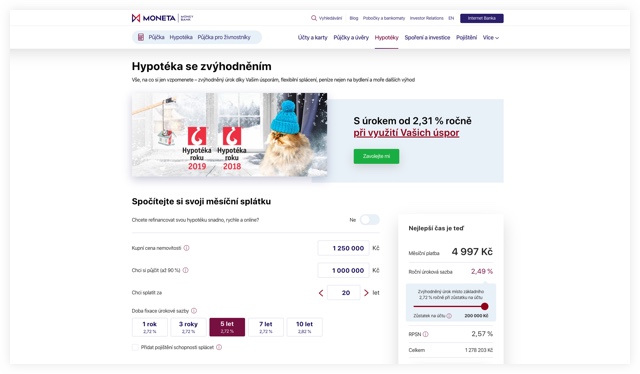 Result
We have managed to create a robust, secure and sustainable portal that is optimised from a number of perspectives and metrics, such as easier administration of the environment, UX user optimisation, web speed, Pagespeed index, Google Lighthouse index, RUM index, SEO, etc.
All these optimisations improve the business performance of this digital channel, giving the bank a competitive edge.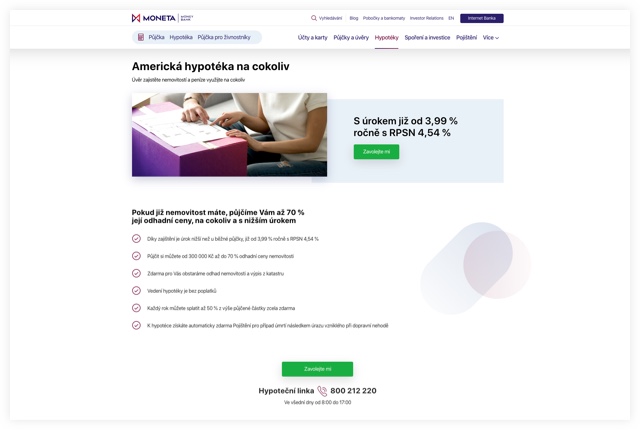 With the team from Lunde, we made a new website at Moneta Money Bank. It was a gigantic project that took more than a year, during which time there were a lot of stressful situations, such as a change in scope, changes on our side or an ever-changing shift of the release date. Despite all this, I had a feeling, and I still have it, that Lunde would never let us down, and I could count on them. I would almost say just few people would make it.
Sandra Šubertová
Product Owner, Moneta Money Bank
Who worked on the project
Igor Packo, Jakub Hamerník, Jiří Kadlec, Lukáš Grygar, Martin Brichta, Martina Mácová, Norbert Durčanský, Oliver Mrázik, Peter Marál, Tomáš Hlaváček
Are you interested in working with us?
Send us your contact details. We will be happy to get back to you.
Contact us