ALD Automotive has long been focused on providing vehicle rental and operating leasing for companies. It is now expanding its portfolio of services for individuals.
The web-based application allows customers to select and request services for an "operator" on-line.
Solution
Our UX specialists and graphic designers prepared a prototype and graphic design of an application that was responsive, modern and "fresh" and adhered to the ALD brand identity.
The solution is then implemented on .NET, React technologies and operated in Microsoft Azure Cloud Services.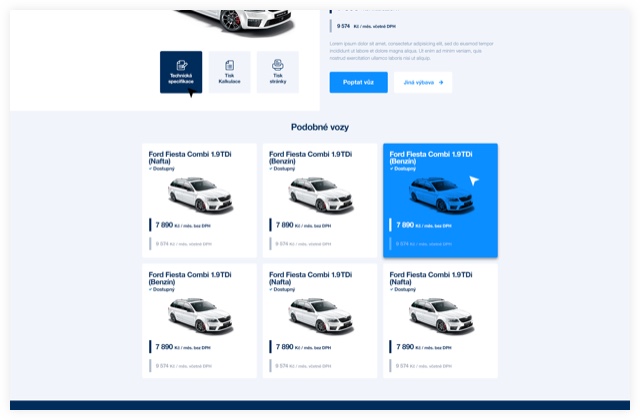 Result
Thanks to the integration of data from other ALD Automotive applications, a customer can choose from a wide range of vehicles in the Aldoperak.cz web application.
UX experts and graphic designers have fine-tuned the web so that the selection is easy and intuitive, and customers can just as easily select and send a request on a desktop, tablet or mobile.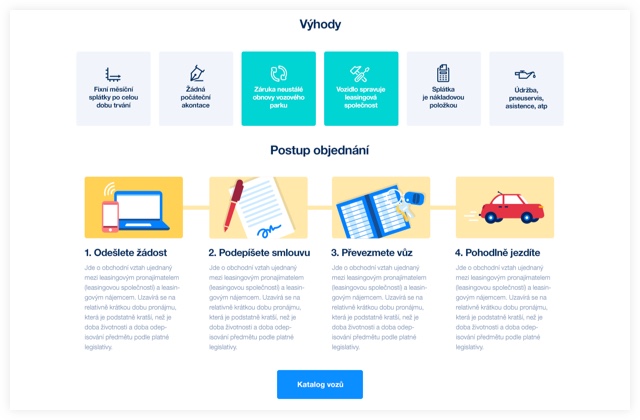 From the beginning, when we decided to create in our company a new sales channel that would suit our digitisation strategy and agreed to prepare and create a team to implement the solution, I personally looked forward to the result and the actual deployment and launch of the application. The proposed solution met my expectations and surpassed it in many ways. Clients, ranging from individuals to companies, can use our versatile tool to compare different versions of offers and print the finished calculation without the need for ALD intervention. This gives us more room to then care for our clients. The link to other ALD applications is very beneficial and significantly simplifies the preparation of offers and also facilitates communication with our clients.
Svatopluk Pražák
Product Manager
Who worked on the project
Karel Prokeš, Denisa Soltészová, Artem Markevich, Oliver Mrázik, Martin Čermák, Angela Hermanová, Jakub Mišenko, Václav Šedivý
Are you interested in working with us?
Send us your contact details. We will be happy to get back to you.
Contact us