BankID: opportunities for Czech companies and experience from abroad
BankID has been declining in the Czech Republic recently in all cases. Let's look at how this technology has contributed to the digitization of the economy in the longest markets, ie in the Scandinavian countries (whether under the names BakID, TupasID or NemID - hereinafter "bankID").
Who uses bankID?
In the Nordic countries, they started bankID sometime around 2003. Today, for example, in Sweden, penetration in key age groups is almost 100%. In the group from 13 to 20 years and (!) Also among seniors (71-80 years), two out of three people use bankID (see survey from Statista).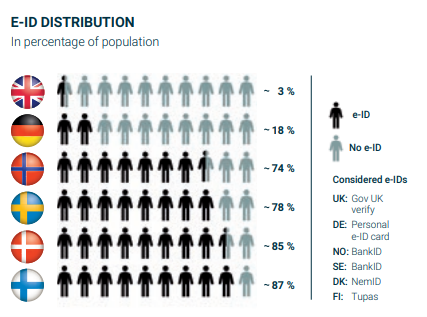 It is worth mentioning that, in addition to the Nordic countries, banks in Canada, such as Verify.me, have launched a similar service (e-identity based on blockchain). It is therefore clear that the bankID service or some other form of user-friendly and secure e-identity has found its way to the mass population. This is probably related to the ease of use and security of the identity itself. Another necessary condition, however, is its practical use. What bankID-based services have developed the most so far?
Specific cases of electronic identity use
1. The obvious ones…. Logically, it can be used in financial transactions. This is confirmed by surveys from the north: according to them, 50-60% of bankID use cases in the Nordic countries are related to financial transactions.
It is most often the provision of loans or other financial instruments. A survey of the average length of a mortgage is known. The "traditional" way takes an average of 16 days, while using bankID you have a mortgage approved on the same day (among other things, without printing about 70 sheets of paper and burdening ordinary mail).
Canadian, bank-sponsored Verify.me, not only allows you to take out insurance directly but also, for example, to verify your personal "credit-score" (ie the chance to get a loan), similar to an inquiry into our Czech SOLUS.
The use of public institutions is also obvious. Probably we are all looking forward to the online processing and approval of license plate applications, to the issuance of various ID cards and confirmations, and the related cancellation of queues and trips to CzechPoints. Experiences from abroad are also positive in this area. E.g. Norwegian student grant agency Lanekassen increased the method of electronic approval and signing thanks to bankID from 5% of all applications to 80%.
It is also tempting - also widely used in the Nordic countries - to submit tax returns or supplements (Saktteetaten) or applications for social support in parenthood (Norwegian Labor and Welfare Administration). I believe that we will live to see it in the Czech Republic as well.
2.… those expected…. However, Northerners already routinely use bankID in other areas of life. Examples are car rentals or a shared economy. BankID provides secure identification when taking over a car without interference or insurance when you rent a car to a neighbor (the Nordic countries have a slightly different way of insuring cars). This is used, for example, by the nabobil.no car-sharing service or the Swedish peer-to-peer carsharing platform Grannfordon.
Another topic is the age restriction of access to services or goods in e-commerce, the solution of which is now the pain of many e-shops. Legal requirements for the online sale of certain goods and content that need to be regulated by setting an age limit (eg gambling, alcohol, tobacco, etc.) will be easy to secure with bankID. And even for teenagers who do not have a bank account. In the Nordic countries, they can use the bankID for physical sales completely unattended. An example is the Norwegian chain Coop (stores called Extra), which you can open yourself and "self-service" after normal closing hours.
BankID identification is also used for remote medical examinations. For example, the Eyr App allows you to securely identify yourself before a video consultation with a doctor. In the Czech Republic, such a service is still in its infancy, mainly due to unfinished legislation in connection with the reimbursement of acts by health insurance companies, but perhaps even these ice sheets will soon move thanks to COVID. Just imagine how much time and inconvenience (travel to the surgery) will save.
The use of this "Single-Sign-On" tool is also offered in education. Thanks to bank ID, students and their parents will have secure access to sensitive information about their children's achievements, tests and examinations (eg the educational portal itslearning.no).
3.… and the less obvious ones. Some other uses usually do not occur to you at first thought.
Examples are other peer-to-peer services, such as providing unused solar energy to the grid or directly to a neighbor (the Otovo platform makes it easier for Northerners to become a provider of clean energy from their own solar panels).
Matchmaking-type platforms also benefit from bankID, where each party wants to be sure of the other's identity, or the platform operator requires this to combat fraud.
A nice example is dating sites; for example, the GoodOnes app thus eliminates "trolls", fake profiles and other burdensome aspects occurring on these platforms. It thus supports the credibility of the service and thus increases the rate of its use.
It is also used in marketplaces and auction servers such as eBay or Aukro, where two parties trade together (often once), who usually do not know each other, but (if they have pure intentions), they want to be sure that there will be no fraud. The more clean transactions that are performed, the more users will use these services, so another "win-win" situation.
The easy-to-use and at the same time sufficiently secure digital identity (which bankID offers) thus brings the opportunity to really significantly simplify the lives of a large number of people with relatively little effort and at the same time in a relatively short time.
Lundegaard will thus have the opportunity to offer its many years of experience with digitization and digital "onboarding", to which many of our references are linked, and to help large and medium-sized companies get the most out of bankID for their customers.
Are you interested in working with us?
Send us your contact details. We will be happy to get back to you.
Contact us