Do you want to reduce the price of the digital onboarding process for your B2B customers and ensure it takes only a few minutes? We know how to do it!
Are your customers' organisations of different sizes? From sole traders to corporations? Do you make sure that you provide your services to trusted organisations? Do you have to, in accordance with legal regulations, verify your customer's agent (KYC) and carry out anti-money laundering (AML) checks before signing the contract? Do it efficiently, quickly and digitally – your business customers are expecting this type of approach!
Today companies are different than before!
Due to digitisation of many spheres of our society, people's habits and expectations are changing. Today, no one wants to stand in line at the counter or be put on hold by a  call centre. People want to deal with their needs immediately from their laptop or smartphone. We pay online, we listen to music online, we book holidays online. We just need to have all the information clearly in one place and do not want to waste time (and lose our cool).
Everyone, and this also means entrepreneurs and legal representatives of companies, requires a quick solution to their needs in their business management. Many things can be done electronically, but usually only after you personally prove your identity and sign the contract at a bank, insurance company or office branch. And that is often when you already need the service. Today, if you want to open a bank account with a new bank, if you want to apply for operational financing, if you want to use other financial accommodation, at the beginning, in the so-called "onboarding" phase, you always have to proceed in an old-fashioned way. And because many people are involved on both sides, the process is lengthy, costly and inefficient.
In order to grow, entrepreneurs expect their suppliers and partners to quickly and easily gain access to capital and financial services.
How to do it?
Thanks to the innovative digital SME Onboarding solution, organisations with a customer segment comprising entrepreneurs, small and medium-sized enterprises and corporations are able to significantly simplify customer acquisition.
SME Onboarding can quickly and without compromise:
verify the identity of customers and legal representatives,
assess credibility and legal capacity,
check for possible fraudulent activities,
enable the signing of a contract for the provision of services,
automate the payment in CZK for the so-called identification acceptance.
Main features:

Omnichannel – desktop computers, mobile phones, tablets. The customer does not install anything and handles everything online.

KYC/AML compatibility – complies with Act no. 253/2008 Coll. on Selected Measures against Legitimisation of Proceeds of Crime and Financing of Terrorism.

Designed for B2B – organisations that enter into contracts and provide services to other businesses entrepreneurs.

Secure and scalable – from a small-scale enterprise to a big business. The solution is secure, fraud-proof and includes everything for handling data in compliance with GDPR.
How does the service work?
1. SAAS
SME Onboarding solution can be used immediately as a SaaS. For example, you can send your new customers a link to start digital onboarding, and once they complete the process (there is no need for your assistance), you will receive a digitally signed contract and verified information about your clients and their legal representatives, owners and other attributes of their business. The entire onboarding will be in your colours and with your logo, because building trust in the digital world is a key to successfully entering into a contract and providing services.
2. Integration into your systems
You can also fully integrate the solution into your processes and have its individual elements fully connected to your other applications and organisational units.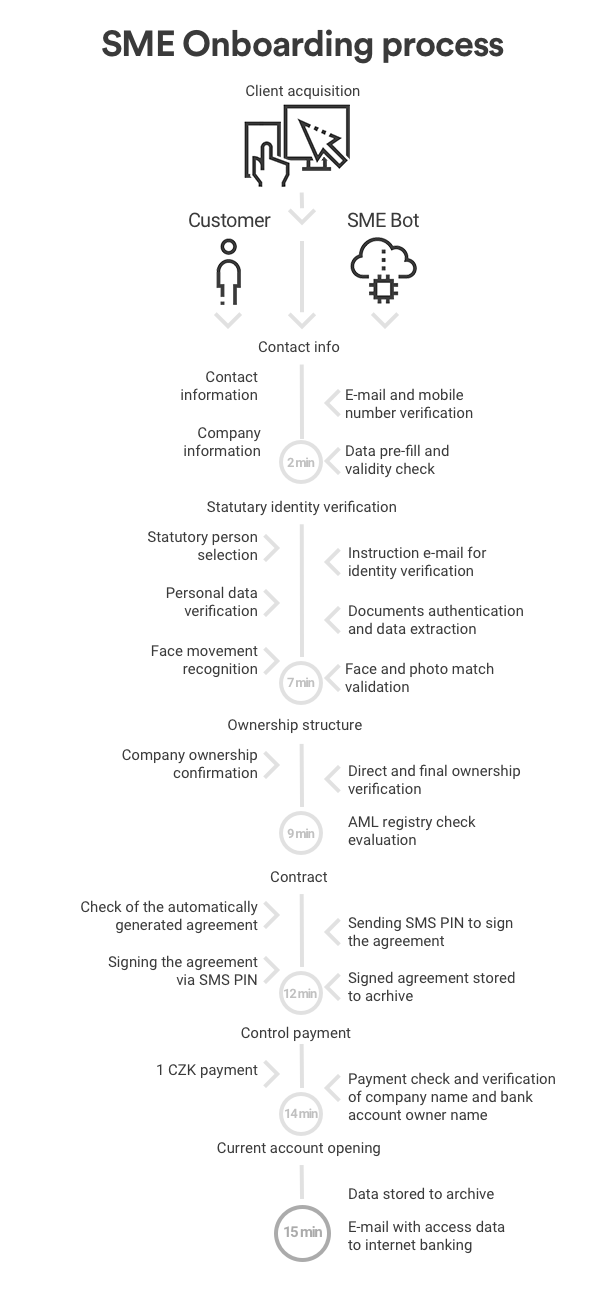 Frequently asked questions
Can SME Onboarding be used even for the simplest processes, such as entering into a contract between our company and our clients (B2B)?
Yes, of course. SME Onboarding is a modular system that can be adapted to your needs.
How fast can we start using SME Onboarding?
Immediately. If you want to use SME Onboarding as a service, it can be prepared for your needs in a few days. In the case of more complex integration and adaptation to your processes, it can take around 4 weeks.
What is the price of your solution?
The price of using SME Onboarding depends significantly on the services that are involved in the process. On average, the price of complex onboarding of one company (including KYC and AML) and obtaining of financial information and warning signs of the company is around CZK 250. For simple or more complex implementations, the price is set individually.
We have some parts of the process handled differently – for example, the extraction of personal documents; can we still use your SME Onboarding and implement our parts into the process?
Yes, SME Onboarding is modular and is open to integration with other service and data providers. For clients where part of the agenda takes place within the already established internal procedures, the entire solution is usually integrated into other processes and applications of our clients.
What is the architecture of the solution and the technology used?
We will discuss with you the details of architecture and technology used at a joint meeting.
Contact us
Want to know more? Contact us at sme@lundegaard.eu other contacts.