Working remotely is no ordinary matter - but we know how to do it
working remotely

remote first
We have multiple branches. Our people are used to working from home or from the train on a business trip – simply from anywhere.
At Lundegaard, we want to have the best professionals in our team. We don't have just one fixed place of work. We have multiple branches. Our people are used to working from home or from the train on a business trip – simply from anywhere. We have supported the so-called "Remote First" culture for a long time; we have described the principles of remote working
Therefore, we have not been constrained at work so much by the measures due to the coronavirus epidemic. As a precaution, we encourage our people to work from home, but we continue to be fully engaged in the projects for our clients.

However, to work remotely is not entirely natural for everyone, even in the IT business. It is necessary to arrange all these areas – working environment (e.g. home office), knowledge of technologies, technical equipment and, last but not least, people's motivation and personal responsibility.
What do you need to be careful about? What needs to be arranged? Read how we do this at Lundegaard.
The essential points to be secured for effective remote working seem clear and simple. However, experience clearly shows that some aspects are often neglected. Then remote working simply stops running smoothly.
Internet connection – high-quality Internet connection in all places where work will be done. If a person often does fieldwork, he/she cannot do it without a mobile Internet connection. Of course, he/she must be able to connect the mobile Internet signal to his/her laptop, too.
Hardware – a laptop as a portable work tool is absolutely essential for remote working. A sufficiently powerful smartphone is equally important. The ability to run applications such as Skype or to write an email quickly without downtime is the strict minimum requirement for smartphones. Furthermore, headphones with a microphone are essential. These are useful on many occasions – from ensuring privacy in teleconferencing to 'soundproofing' when working in a disruptive environment. Ordinary earbuds often supplied with a mobile phone are sufficient.
Software – email, remote access to company data or Google Apps/Microsoft Office 365 online office should be standard. In addition, video conferencing with desktop sharing is a vital tool – we use Whereby at Lundegaard but also other services with our clients (e.g. Zoom, Skype, MS Teams etc.). We use the Slack app for quick and quiet communication. Compliance with the basic rules for the safe handling of data and information must not be forgotten either.
Computer skills – without them, effective remote working would turn into a work and time farce. A laptop is our work tool; we have to know how to use it perfectly.
Workplace – when working from home for more than a few days a month, it is necessary to have one's own undisturbed workplace, preferably in a home office or work corner. A kitchen table or children's room are not suitable places. When working remotely, any quiet place will basically do. If the place is not absolutely quiet, there is no other way than to learn to ignore the noise, just like people in open-plan offices have to do. It can be partially reduced by, for example, by headphones with music.
But it is not only a matter of sufficient equipment and technical skills. Certain "soft" prerequisites for work to be effective in the long term are also important.
Motivation – the basic prerequisite for successful remote working or work from home is the inner desire and motivation to work in this way. Those who lack this will look for a variety of distractions which there are much more outside the office. And their work will stagnate.
Responsibility – keeping deadlines and submitting tasks in time promotes colleagues and manager's trust. It also allows employees to experience a sense of their own success from their work. No remote worker can get by without a minimum level of self-responsibility toward their work.
Here are a few more tips on how to set the right rhythm when working from home every day:
Get dressed for work – be dressed comfortably but as if you were going to work. It helps you mentally switch into working mode much more easily than working in pyjamas.
Set up and stick to a schedule – be strict on yourself, tell yourself and communicate to your colleagues clearly what time windows you will work in and keep this.
Set up specific tasks for each day – a list of what you want to do on that day helps you stay focused on what matters and move on with your tasks quickly.
Create "mini rituals" – if you work from home on a regular basis, it helps to create little rituals that get you into your work pace. For example, you go through and sort your emails in the morning during breakfast.
Reward yourself – when you finish something or do something good, have a good coffee or some sweets you love. Then happily plunge into the other part of the workday.
At Lundegaard, we have been trying to meet the above-mentioned prerequisites and have long been checking them by remote working (between branches, work from home) being a natural part of our corporate culture and our corporate processes too. In addition, we are now going through a "stress test" related to the coronavirus epidemic. So far, we have been meeting the challenge successfully. We even had a virtual drink after work – we just raised our cups and drank to our health over our video conference. And we wish everyone well.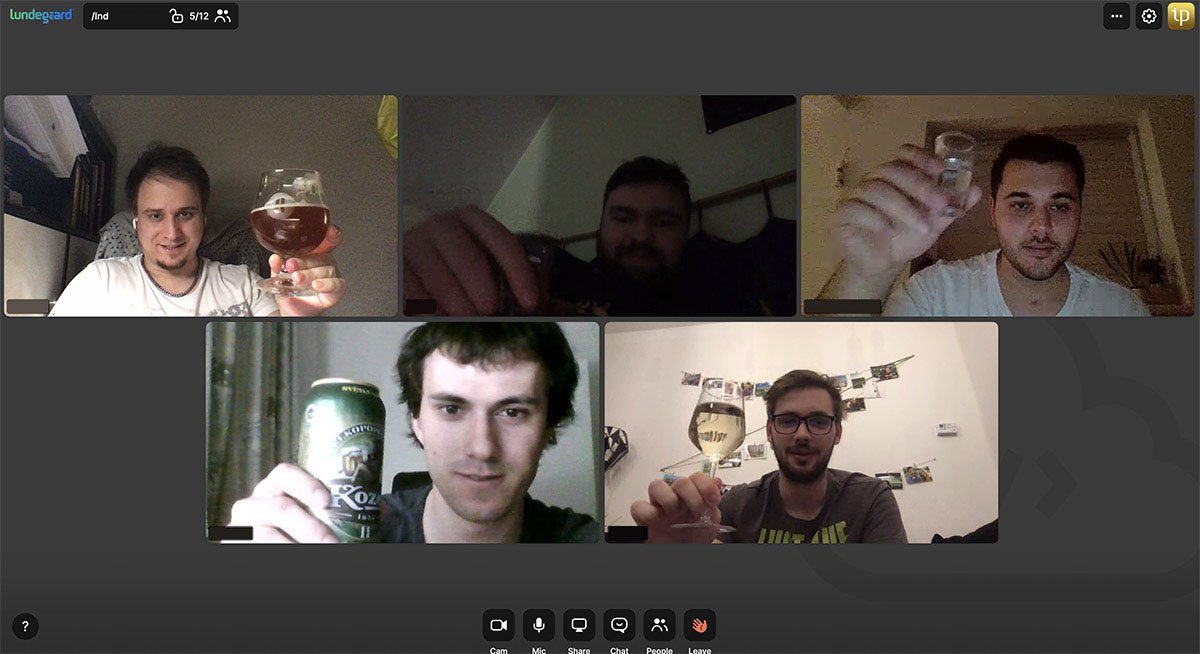 Are you interested in working with us?
Send us your contact details. We will be happy to get back to you.
Contact us