Lundegaard was recognized among the world's top software development companies by Pangea.ai
We went through an in-depth verification process to provide unparalleled transparency about our company and we are now part of the Pangea.ai club of recognized vendors. The onboarding process designed to filter out less successful and less prepared organizations was tough and showed that this club is not for everyone. Here goes our experience in passing the verification process and becoming a part of the global top 7% of software engineering vendors.
Why we decided to apply for a membership with Pangea.ai and how was the verification process
Our goal is to provide consulting and development services all over the world. Therefore we were looking for a way to prove globally that we are a reliable and verified partner you want to work with. We were aiming especially at a foreign audience as the awareness of our company beyond our borders is not very high yet. After some research and having heard several recommendations we decided to go through a Pangea.ai in-depth verification process. The verification and onboarding were very complex and time-intensive; long story short: it was tough. It engaged a big part of our team and contributed significantly to a project coordinator's to-do list. On the other hand, we need to admit that the process was well structured and touched probably every important part of our company to make sure that Lundegaard is ready to take its place on the top-vendor shortlist and become a member of the Pangea club. As we were gently forced to go through all the documentation needed we discovered what amazing assets we actually have that are worth showing off.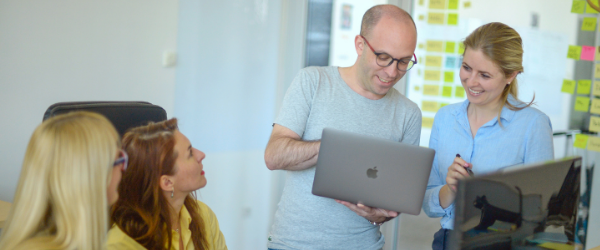 What we have learned
Let the people from the Lundegaard team we interviewed during the process "speak for themselves". Here a bit of what they had to say: "I am proud that we really live and fulfill the company values that we have defined together and they are not just empty words. They are maintaining a human approach, responsibility, enthusiasm and professionalism and they are what I value the most." Says Tomas, Frontend development team leader describing what he finds the most exciting about Lundegaard
"Lundegaard is one big family. (...) We, as colleagues and comrades, enjoy spending time together. On projects, at work, outside the office, pubbing, drinking coffee, going skiing, attending conferences, brainstorming with clients… you name it! The crucial factor to our lives is that we get along. I have met so many lifelong friends in Lundegaard I already lost count!" Shared Petr, Head of Project Managers and Business Analysts
In terms of numbers we have scored above (the Pangea.ai) average in the questionnaire designed to show our "team health" within the verification process. And thanks not only to those final numbers we have proven to ourselves that our strategy aiming to value our people and to take extraordinary care of them is definitely worth it. On the other hand, the data also revealed our weaknesses: our lowest score in the process was 7/10 and it was related to our project documentation level. We know that we can hardly be the best in class in every single area. However, we realize this room for improvement and plan to work on it.
We admit that sometimes we give a priority to deliver results in a very short time - in case it is a priority for our client - but the documentation should not be (and is not) sidelined. We will take steps to enhance it as it is part of our current strategy as well.

What we have gained
Not only are we part of the elite vendors club, but we also have a useful asset that will help us show it: our Pangea.ai profile that sums up everything that may be important for our potential customers.
Our managing partner, Petr Bartoň, summarizes our experience with the Pangea.ai onboarding process:
"We looked for reputable partners who can help us abroad prove the fact that Lundegaard is a reliable vendor who can offer first-class consulting and development services all over the globe, even remotely. Thus we decided to join the Pangea Digital Knights. The onboarding process was very demanding - on the other hand, it is another testament for us that we are in good company in a percentile where only the best vendors can be."
Are you interested in working with us?
Send us your contact details. We will be happy to get back to you.
Contact us