Digital Transformation - how to start
Digital transformation refers to a fundamental change that comes with the transition to digital technology in all aspects of human behaviour.
According to IDC research published last year 37 percent of medium and large sized companies go through digital transformation and 20 percent is planning to start soon. Lets have a look at fundamentals of the topic.
What a digital transformation stands for?
Digital transformation in conjunction with a company's business activities translates this change through digital switchover to all processes of the company - from sales and customer care, through internal communications and company operations, recruitment and work with employees to other areas of company operations.
Benefits to companies - flexibility, responsiveness
When digital transformation and corporate culture change (which goes hand in hand with transformation) are done well, companies can use modern tools to improve their responsiveness to market change. Digital transformation, for example, may involve a better grasp of virtualization technologies, as companies step away from ownership and operation of demanding computing infrastructures and can use these costly items only as services.
Such a change allows them to flexibly respond to the potential fluctuations in the need for computing power - for example, seasonal sales, boosted promotional campaigns and tracking the general trend of wider customer base.
Similarly, this flexibility is perceived within the company too, allowing it to grow more easily and meet internal staff requirements despite increased demand. The same is true, naturally, vice versa – when demand is lower, the company is able to reduce its operating costs by reducing the infrastructure to the required level.
Benefits to employees and customers - speed, independence, comfort
Digital transformation also empowers customers and helps them become independent. With the right digital strategy, the customer gets better quality information faster and more precisely when they need it. This will allow to reduce the dependence on personal advice, whether at a branch or through telephone or emailing client centres.
It is important to realize that customers are adapting to digital time, speeding up communication with each other, using social networks, and they expect the same from companies. Customers do not think about digital transformation. They simply expect it to happen. Similarly, we can see employees want to use digital technologies at work as they are used to using them in their personal lives.
Digital wave and how it affects people and companies.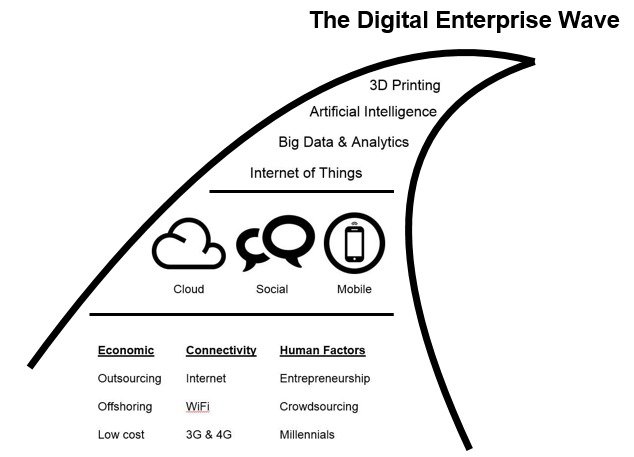 Source: Theagileelephant.com
How to start
A typical project to step into the digital era is the introduction of complex self-service client zones that are capable of handling larger or smaller customer service requirements - be it Internet banking, contract management with insurance, or a shopping cart with a history of purchases (as few people remember where they deposited the invoice for the purchase, right?).
The following steps to improve digital communications with customers can then be based on client data, enabling companies to customize content and information for customers to make them more relevant to the client.
It also gives more room for more precise product set-ups, helping to increase granularity in the product portfolio so that each customer receives exactly what they need and what is beneficial to them.
Next step – data, analytics
When it regards internal processes and the use of digital potential, we often hear of "big data" and data analytics in general.
Nowadays, it is cheaper to store data and expand storage than deleting data (of course, we don't know yet how this will change with the new GDPR directive).
Similarly, new data producers are emerging, whether they are tools that measure server performance, monitor servers, or monitor user behaviour on web pages and applications more closely.
Companies try to extract this data ideally immediately as to be able to respond appropriately to it, and therefore analytical tools capable of transmitting information in "near-real time" are used.
VIDEO: Digital transformation - have we forgotten something?
Source: YouTube.com, www.digitaltransformationbook.com
Virtual environment transition
In the last stage, we can see companies, which, from the customer's point of view, only function in the virtual world of the Internet. No branches, pick up points, and other contact centres are needed.
In today's market there are already many companies that have completely abandoned the concept of high street outlets - e-shops and discount servers are the most visible ones on our market. Similarly, new platforms such as Airbnb or Uber operate this way.
This trend, however, penetrates also other areas and gives rise to the emergence of "fintech" and "insuretech" buzzwords, i.e. technology companies specialising in such finance or insurance. Fully digital companies already exist and their examples are "insurance" companies Lemonade, Cuvva and European bank N26.
What about people?
In general, digital transformation can be understood as a greater ability to do less people-dependent processes and use technology to optimize staff. Human potential is then used more creatively and focuses primarily on improving user and customer experience. We will talk about the different concepts in the next few days.
Are you interested in working with us?
Send us your contact details. We will be happy to get back to you.
Contact us