Digital Café: SME Onboarding Automation
Digital Café

SME Onboarding
We have organised the Digital Café at Lundegaard for the third year in a row. Traditionally, this has been a meeting with clients over a tasty breakfast that includes presentations about digital issues. We did not want to forgo this regular meeting with our clients even this year, so we decided to transform the Digital Café into an online version.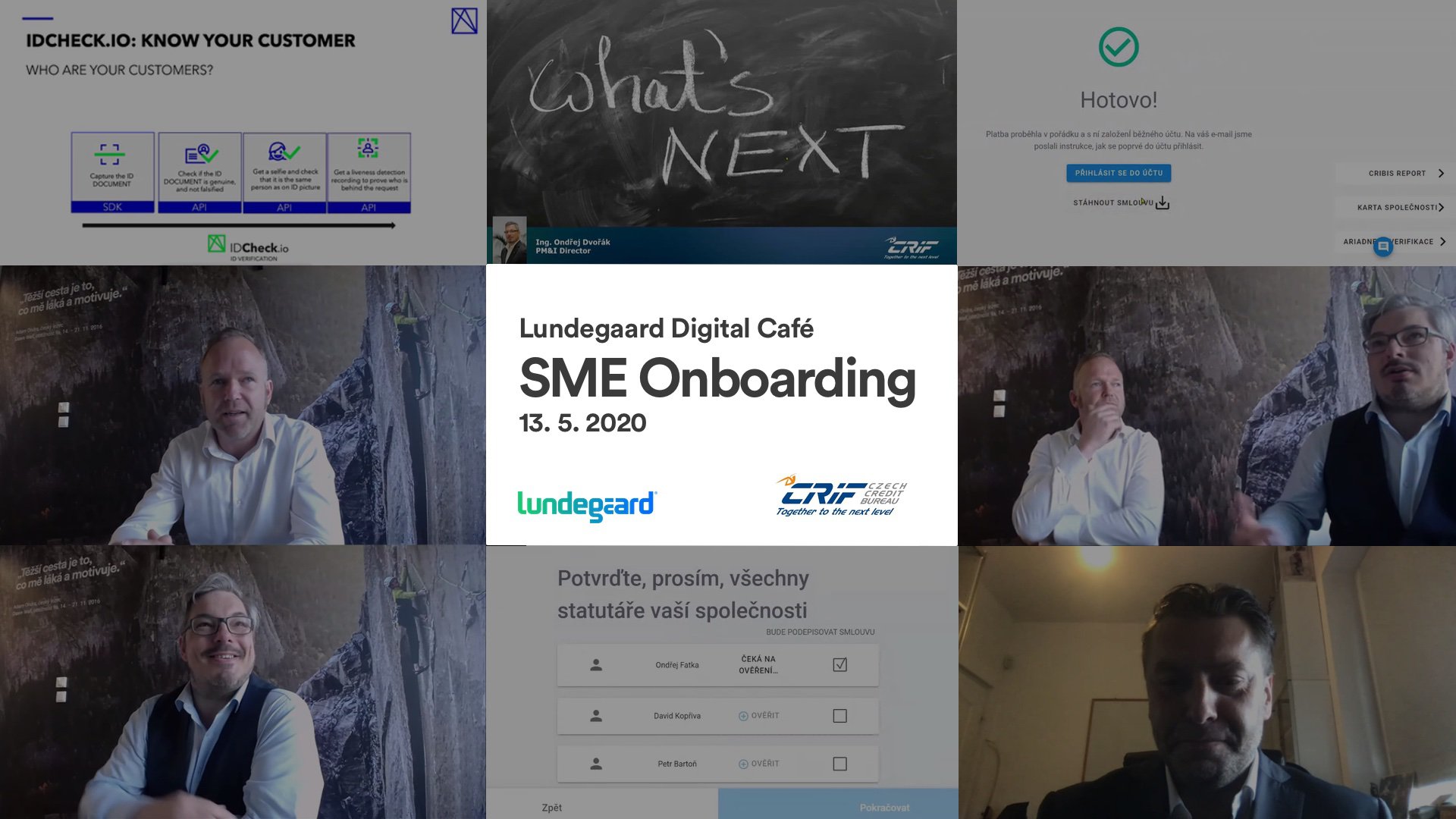 Our clients are really important to us, so even in these difficult times, we did not hesitate to think up a way to provide them with useful information that might help their business. These days the demand for service digitalisation is much stronger than ever, and we have - within the webinar - presented our new SME Onboarding Automation solution.
In the B2B field, lots of processes related to entering into an agreement require an in-person visit to the service provider. Consequently, the processes themselves are often too lengthy and expensive. Lundegaard, in cooperation with CRIF and Ariadnext has come up with a unique solution for "onboarding" digitalisation and the associated automation of the assessment of the company in terms of its eligibility for legal measures, credibility and trustworthiness directed at speeding up the whole process and significantly reducing costs.
Honza Denemark (Senior Consultant, Lundegaard) used the webinar's introduction to explain the reasons that have lead us to the fully digital Onboarding SME solution and presented a real demonstration with the explanation of our principles and method of implementing legal requirements.
"Currently, digital channels for financial services shopping and operation have become very popular with customers. They also expect the same comfort for their companies or companies they manage. Therefore, financial situations have found themselves under increasing pressure to optimise their operating processes," said Honza in the introduction to his presentation.
Lundegaard has come up with the new SME Onboarding Automation solution. You can see its main benefits in the image below.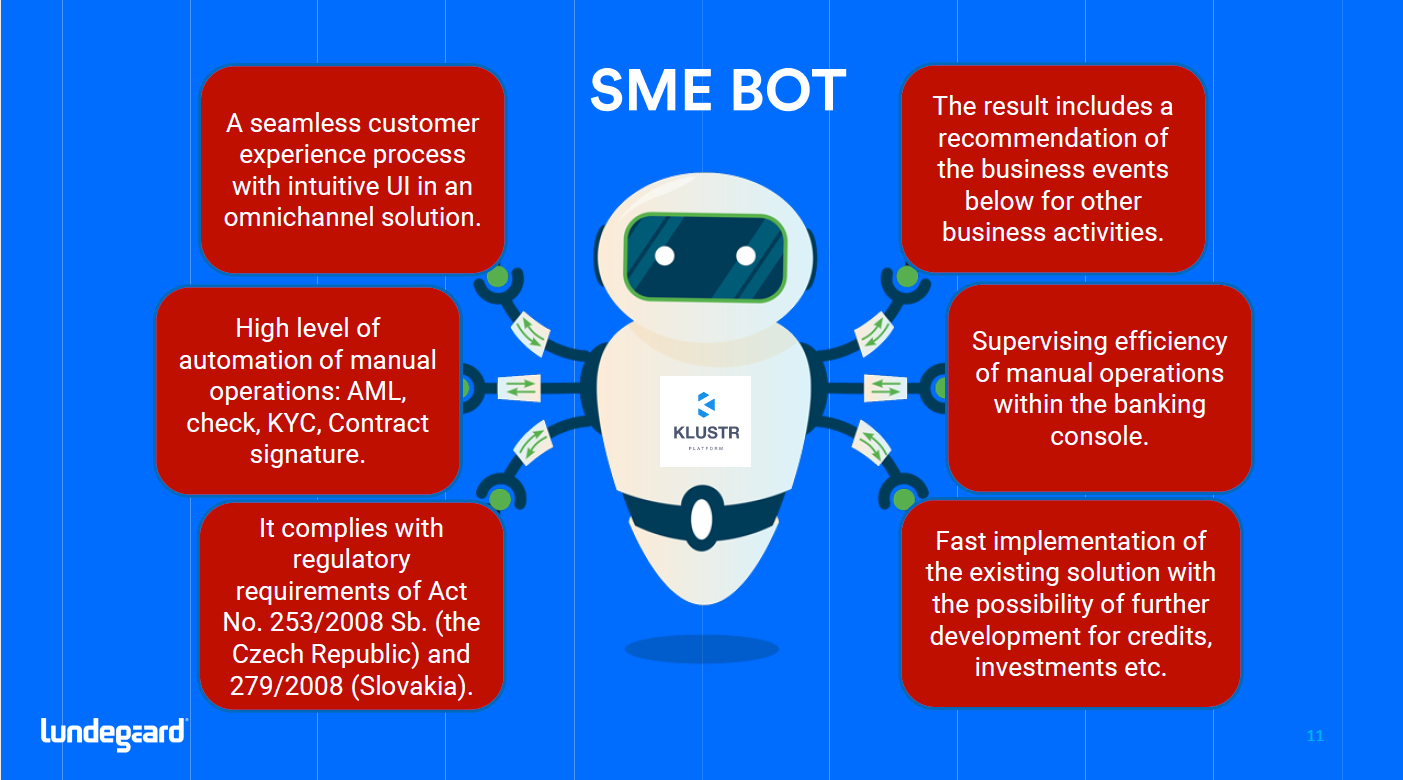 Anyone who needs to sign a contract with a company remotely, verify the credibility of his/her new business partner, automate the process associated with obtaining financial information about the company, sign a financial service agreement with the inclusion of AML and KYC, etc. can use our solution. Most often, these are banks, insurance companies, leasing companies, investment companies as well as brokers, logistics companies or government institutions.
Your customers get digital access to your services - quickly and with the maximum user comfort. You will be considered a progressive company by them, and this more advanced solution can consequently mean cheaper services for them.
At the end of his presentation, Honza presented the on-line company SME Onboading including all verifications and agreement signing by the company director.
For more information see SME Onboarding Automation.
As already mentioned, CRIF and Ariadnext are also Lundegaard's partners in SME Onboarding. Ondřej Dvořák (Product Management & Innovations Director, CRIF - Czech Credit Bureau), spoke on behalf of CRIF during the webinar; in his presentation he dealt mainly with other fields where the digitalisation for SME can be used efficiently, including credit risk assessment. So what is the CRIF role in the SME Onboarding Automation solution?
It provides the integration of the CRIBIS application, which is a reliable data source of more than 10 million enterprises and natural persons from the Czech and Slovak Republics using more than 43 information sources.
It provides the integration of AML services.
It involves services of companies' ratings.
In the future, we are going to make the integration to the PSD2 service for the CRIF provision.
It guarantees the quality of provided information and partner trustworthiness.
To close, Marcin Woźny spoke on behalf of the Ariadnex partner company (Country Manager Poland, Ariadnext); he presented the latest trends in the field of remote identity verification using personal ID documents and face scanning. The IDCheck.io service for the ID verification and the verification of the physical presence of a particular person at a screen is a part of the SME Onboarding solution. The benefit of the service is the possibility of online integration or mobile application use combined with the maximum level of security and a high level of user friendliness - both guaranteed. Ariadnext has been active in a number of EU member states providing an opportunity to extend our solution to other countries.
Though we have not been able to meet our clients face to face, we rate the online webinar very positively and are glad that even at this time we can be close to our clients and offer them relevant solutions for their business. We look forward to our next meeting, which will hopefully be in person.
Are you interested in working with us?
Send us your contact details. We will be happy to get back to you.
Contact us